Erythromycin Impurity B- A featured product of Pharmaffiliates
Published Oct 7, 2019 by pharmaffiliates

A macrolide antibiotic that was originally discovered in 1952, with bacteriostatic action is Erythromycin. It works by stopping the further growth of bacteria rather than directly destroying it. This is achieved by inhibiting protein synthesis.
Erythromycin is used for treating various infections and also indicates a non-infectious pathology. It is active against both gram-positive bacteria, gram-negative bacteria, and several other organisms.
Erythromycin is available in oral form, intravenous form, topical form for the skin, and as an ophthalmic preparation for the eyes.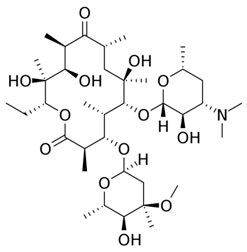 But, Erythromycin's instability under the acidic conditions that are present in the stomach can give inactive by-products resulting in low bioavailability. These by-products are present in the form of metabolites. Others are generated during the time of drug development and manufacturing process.
As per the ICH guidelines, the presence of these byproducts must lie within the criteria of the desired guidelines so that the drug product is fit for human consumption.
Henceforth, these byproducts need to be identified, isolated, quantified and characterized in the drug material and drug product.
Pharmaffiliates Analytics and Synthetics Pvt. Ltd, a research-based organization offers a vast range of known and unknown impurities of erythromycin at a very competitive price.
Pharmaffiliates is a gigantic name known globally as a manufacturer/supplier/exporter of reference materials. Our researchers are involved in the impurity profiling of Pharmaceutical API and offer a wide range of impurity standards in the form of metabolites, chiral standards, intermediates, glucuronides, degradants, stable isotopes, etc.
One such impurity, Erythromycin impurity B, also known as N-Demethyl-erythromycin which is a metabolite of Erythromycin is readily available at Pharmaffiliates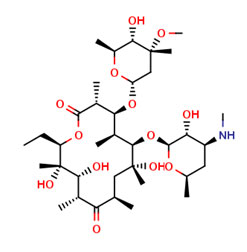 Reference standard of Erythromycin impurity B is provided by Pharmaffiliates with a detailed Certificate of Analysis which includes all the spectroscopic data, chromatograms and other details required for the fulfillment of the regulatory requirements of our customers.
The Reference standard of Erythromycin impurity B is available in pack sizes of 25, 50 and 100mg vials. Pharmaffiliates can customize the pack sizes as per the need of the customer.
To avail special discounts, view prices, and download COA, Login at www.pharmaffiliates.com as a registered user. For other impurities of Erythromycin and its stable isotopes follow the link :
https://www.pharmaffiliates.com/en/parentapi/erythromycin
Leave a Reply