Agomelatine - The first melatonergic antidepressant
Published Sep 20, 2019 by pharmaffiliates

Generalized anxiety disorder (GAD) is a medical term used for severe, ongoing anxiety that interferes with daily activities. The symptoms may occur at any ages which are easily treatable but the numbers of patients of GAD are increasing at an alarming rate. It is estimated that nearly 10 million people in India suffer from the syndrome every year.
Agomelatine is a melatonergic MT1 and MT2 receptors agonist and a selective serotonergic 5-HT2B and 5-HT2C receptors antagonist (MASSA). Chemically, Agomelatine is a synthetic naphthalene analog of melatonin,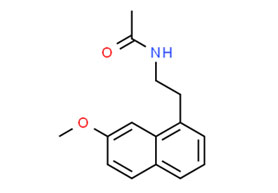 Agomelatine is the first regulatory approved melatonergic antidepressant. It is more lipophilic and shows improved brain penetration compared to the indole of melatonin.
Since, depression is a devastating disorder and there is an alarming need for the pharmaceutical industry to develop and manufacture drugs like Agomelatine.
To accelerate and affiliate the drug development and manufacture of antidepressant and antianxiety drug Agomelatine, Pharmaffiliates Analytics and Synthetic Pvt. Ltd. offers reference material of Agomelatine, its impurities and its stable isotopes.
Details are listed below:
Parent API
Category
Product Name
CAS No.
Catalog No.
Agomelatine
API
Agomelatine
138112-76-2
PA 01 31000
In House impurity
Agomelatine Dimer Acetamide
1385018-58-5
PA 01 31510
In House impurity
Agomelatine Dimer Urea
185421-27-6
PA 01 31520
In House impurity
Desacetyl-7-desmethyl Agomelatine Hydrobromide
144705-51-1
PA 01 31530
In House impurity
N-(2-(7-Methoxy-1,2,3,4-tetrahydronaphthalen-1-yl)ethyl)acetamide
178677-49-1
PA 01 31540
These products are available in pack sizes of 25, 50 and 100mg vials. Pharmaffiliates can customize the pack sizes as per the requirements of the customers. A detailed Certificate of Analysis and MSDS are also provided with each product which fulfills all the regulatory requirements.
For more details follow the link given below:
https://www.pharmaffiliates.com/en/search?s=Agomelatine&submit=
Apart from the above-mentioned products of Agomelatine, Pharmaffiliates also offers Stable Isotopes of Agomelatine with high purity and highly enriched deuterium.
Pharmaffiliates is a research based organization with a product portfolio of over 100,000 products and nearly 10,000 in stock materials which includes standards for environmental, petrochemical, pharmaceutical, food and beverage, phytochemicals, pesticides, deuterated solvents and much more. Our standards manufacturing site is accredited to ISO/IEC 17025, ISO Guide 34 and ISO 17034, which is the highest achievable quality level for reference material producers.
Pharmaffiliates is a worldwide manufacturer/supplier/exporter of reference material and we have a highly satisfied clientele in more than 65 countries across the world.
Leave a Reply