Thiamine - An essential micronutrient
Published Oct 30, 2019 by pharmaffiliates

Thiamine, also known as thiamin or vitamin B1, is a vitamin found in food, and manufactured as a dietary supplement and medication. Thiamine is an essential micronutrient that plays a key role in energy metabolism. It is not endogenously synthesized in the body and the richest food sources of thiamine are whole grains, yeasts, meats, legumes, and nuts.
In developing countries, thiamine deficiency remains a widespread concern. Thiamine deficiency may develop by ingesting diets which areeither contaminated with thiamine-metabolizing enzymes (e.g., thiaminase) or that underwent thiamine inactivation by heat or sulfur dioxide. Heavy consumption of tannin-containing or food rich in caffeine, theobromine, and theophylline (such as those present in coffee, chocolate, and tea, respectively) can inactivate thiamine, thereby compromising the thiamine status.
Thiamine is present in the body as free thiamine, as well as in several phosphorylated forms: thiamine monophosphate (TMP), thiamine diphosphate (TDP), and thiamine triphosphate (TTP) .
Although thiamine deficiency is fairly uncommon in developed countries, various factors or conditions, such as alcoholism or advanced age, can increase the risk.
Thiamine deficiency can present itself in various ways, and symptoms are often nonspecific, which makes it difficult to identify.
Fortunately, a thiamine deficiency is usually easy to reverse with supplementation.
Pharmaffiliates Analytics and Synthetics Pvt. Ltd offer reference material of Thiamine Hydrochloride, its impurities and stable isotopes atvery competitive prices.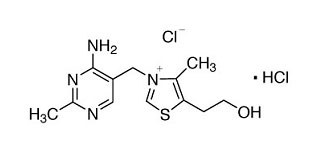 Details of reference standards Thiamine Hydrochloride and its impurities are tabulated below:
| Catalogue Code | Product Name | CAS No. |
| --- | --- | --- |
| PA 20 28000 | Thiamine Hydrochloride | 67-03-8 |
| PA 20 28010 | Thiamine Hydrochloride - Impurity A | 2380-61-2 |
| PA 20 28021 | Thiamine Hydrochloride - Impurity B | 7770-93-6 |
| PA 20 28030 | Thiamine Hydrochloride - Impurity C | 7275-24-3 |
| PA 20 28040 | Thiamine Hydrochloride - Impurity D | 490-82-4 |
| PA 20 28050 | Thiamine Hydrochloride - Impurity E | 299-35-4 |
| PA 20 28060 | Thiamine Hydrochloride - Impurity F | 3505-34-8 |
| PA 20 28070 | Thiamine Hydrochloride - Impurity G | 1037-29-2 |
| PA 20 28080 | Thiamine Hydrochloride - Impurity H | 89285-03-0 |
Pharmaffiliates is leading global manufacturer and distributor of reference materials.
Since last 2 decades, Pharmaffiliates have supported the pharmaceutical community with high-quality reference standards from sources all over the world. With more than 100,000 reference standards for pharmaceutical quality control, our quality enables your accuracy, helping you to create ever better, safer medicines.
Pharmaceutical API, impurity, related substance and stable isotope reference standards of Thiamine Hydrochloride each come with a comprehensive Certificate of Analysis detailing the characterisation process for the material, and ensuring its suitability for both qualitative and quantitative analysis.
Our dedicated analytical, synthesis and customer service teams go beyond the standard, and our in depth of knowledge, decades of manufacturing experience and scientific excellence in the world of pharmaceutical reference standards ensure your peace of mind.
Leave a Reply