Rivaroxaban – An anticoagulant with a difference
Published Oct 3, 2019 by pharmaffiliates

Blood thinners or anticoagulants are chemical substances that prevent or reduce the coagulation of blood, thereby prolonging the clotting time.
Anticoagulants are a class of drugs that are similar to antiplatelet drugs and thrombolytic drugs by manipulating the various pathways of blood coagulation.
Historically, warfarin and Heparin were two main vitamin K antagonists (VKAs), oral anticoagulant (OACs) drugs available in the market.
But very recently in the year 2007, non-vitamin K oral anticoagulants (NOACs), including factor Xa inhibitors Rivaroxaban was patented and approved for medical use in the United States in 2011.
Rivaroxaban is specifically used to treat deep vein thrombosis and pulmonary emboli and prevent blood clots in atrial fibrillation and following hip or knee surgery.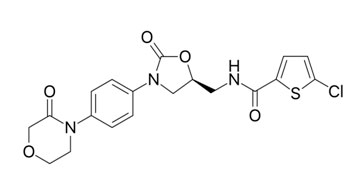 Rivaroxaban acts as an anticoagulant by selectively, directly, and reversibly inhibiting free and clot-associated factor Xa in human plasma without binding to antithrombin.
Rivaroxaban is well tolerated, with a predictable pharmacokinetic profile, without the need for laboratory monitoring.
Pharmaffiliates Analytics and Synthetics Pvt. Ltd provides Reference materials of Rivaroxaban API and its impurities in the form of its intermediates, metabolites, chiral standards, degradants, stable isotopes, etc.
The details of all the impurities available at Pharmaffiliates are tabulated below:
| Product Code | Chemical Name | Product Name | CAS No. |
| --- | --- | --- | --- |
| PA 18 38000 | Rivaroxaban | Rivaroxaban - API | 366789-02-8 |
| PA 18 38590 | 5-Chloro-N-[[(5R)-2-oxo-3-[4-(3-oxomorpholin-4-yl)phenyl]-1,3-oxazolidin-5-yl]methyl]thiophene-2-carboxamide | Rivaroxaban - Impurity A | 865479-71-6 |
| PA 18 38830 | Rivaroxaban Acetamide Impurity | Rivaroxaban - Impurity B | 1429334-00-8 |
| PA 18 38090 | Rivaroxaban N-Hydrolyse N-5-Chlorothiophene-2-carbaldehyde | Rivaroxaban - Impurity I | 1151893-81-0 |
Other than these many unknown, in house impurities, stable isotopes, reference standards of USP, BP, IPRS, etc. of Rivaroxaban are also provided by Pharmaffiliates
The reference materials of all the above-mentioned products are available in pack sizes of 25, 50 and 100mg vials. Pharmaffiliates, being a customer-friendly organization can also customize the pack sizes as per the requirements of our esteemed clientele.
Pharmaffiliates is a research-based organization that specializes in manufacturing/ exporting/ supplying of reference materials of Pharmaceutical use, Phytochemicals, Agrochemical standards, Environmental use, and Food and Beverage standards.
Each reference material is provided with a detailed Certificate of Analysis which includes all the necessary information required to fulfill the regulatory requirements of the customers. The chromatograms and spectroscopic data are also attached to the COA and all the analysis is done as per 21 CFR part 11compliance.
For more details visit www.pharmaffiliates.com and login as a registered user to avail discounts and other benefits.
Leave a Reply