Tenofovir - A Wonder Drug For Covid -19
Published Sep 18, 2020 by pharmaffiliates

As the coronavirus pandemic swept through major part of the world in 2020, the US Food and Drug Administration has approved antiviral drugs Ribavirin, Remdesivir, Sofosbuvir, Galidesivir, and Tenofovir as potent drugs against SARS-CoV-2 since they tightly bind to its RdRp.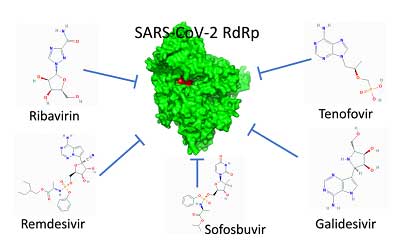 In this article we shall focus on anti HIV drug Tenofovir, as a latest Spanish study reveals that rates of contracting COVID-19 are lower among people with HIV taking antiretroviral therapy like Tenofovir as compared to individuals in the general population.
Tenofovir which is available as Tenofovir disoproxil fumarate is a prodrug of Tenofovir which is then phosphorylated to Tenofovir diphosphate. Tenofovir diphosphate inhibits the activity of HIV-1 reverse transcriptase by competing with the natural substrate, deoxyadenosine 5'-triphosphate, and by DNA chain termination.
Studies and tests reveals Tenofovir is potent drug against coronavirus as well. Scientists and medicinal facility is constantly in search of a treatment against the deadly pandemic.
In order to develop of drug molecule for new disease, knowledge about its impurities and its ill effects on human health shall be given immense importance. Studies reveal that there is an enormous interest in impurity profiling of drugs in pharmaceutical parlance. The presence of undesirable chemicals, even in trivial quantity may influence the efficacy and safety of the pharmaceutical products. Many Pharmacopoeias viz United States Pharmacopeia (USP), Indian Pharmacopoeia (IP), and British Pharmacopoeia (BP), European Pharmacopoeia (EU) have designed monographs to ensure minimum acceptable quality of drug substances and drug products for users. Many regulatory agencies give critical attention to the monograph included in pharmacopoeia on impurity profiling.
Some of the known (Pharmacopeial) and unknown impurities (non-pharmacopeial) of Tenofovir are tabulated below. These impurities are identified, isolated, purified and characterized after enormous research.
The impurities shall be available for research or quality control purpose to the pharmaceutical industries so that the antiviral drug against Covid-19 is developed and manufactured in bulk and is freely available to mankind.
The impurities and other research compounds shall be available with Certificate of Analysis and other supporting data required fulfilling the Regulatory requirements. Also the research compounds must be highly pure and readily available.
Sourcing these research materials is a tedious task but Pharmaffiliates Analytics and synthetics P. Ltd. has made the choice easier.
Pharmaffiliates fulfills all the above requirements and is a worldwide manufacturer/supplier/exporter of Reference standards, Research material and Quality products. Our accreditations include ISO 9001:2015, ISO 2001:17025, ISO Guide 34, USFDA, DSIR and Ilac.
Leave a Reply